A Tiny Sepia Series Story

Today Livvie explores the realm of Tortesia, a suburb of Sepia, and of course, it is Saturday. Many people and other beings believe that Sepia is a color.  Some of us who enter into Sepia Saturday have come to believe in something more grand. And velvety, at times. Our petite hero has begun exploring the outer realms of her Windsor Terrace neighborhood.  Sure enough, it happens again. She has slipped through a small rip in the time-space continuum. This is what she sees:
She thinks, "Is that lettuce that the tortoise is eating? Why not bacon? Where am I"?
And then, "I think I'll look around."
Then, "ARRRRRGGGHHHHEEEEIII"!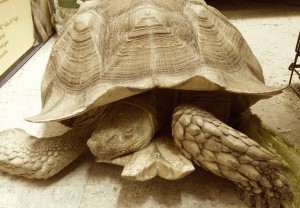 "You are quite gigantor," she squeaks to the creature.
"I am Empress Tess of Tortesia,"  the creature responded.  "If you obey me, and follow the tortoise rules, you may stay and look around.  I will offer you a special surprise."
Livvie has one response. "Wooferooee"!
This is what happened.
Little Livvie rode right out of Tortesia and back to Brooklyn, like all good rat terriers should.
***
(Visit Marian Allen at her wonderful twitter site, read her work, and get writing prompts.  Twitter handle @MarianAllen. She inspires people to write small and larger stories)
***
We are participating in Sepia Saturday Blog Hop hosted by Ruckus the Eskie. Thanks Ruckus!