Please consider adopting LaLa, an amazing little Cairn, whose parents went into assisted living , and wanted her to have a good home for the rest of her days.  LaLa is being fostered in Lyons, Kansas, but Col. Potter Cairn Rescue Network will help you problem-solve about how to get her to your town, should you want to adopt her. LaLa is a sweet little girl whose tail is always wagging.  She is 11 1/2, which, for these little terriers is not that old! Many of them live to ripe old ages. Her  foster dad said that initially she enjoyed going outside, even though she couldn't walk very far. Now her endurance on walks seems to be increasing. You can see her profile on the Col. Potter Available Dogs page. Why not fill out an adoption application while there?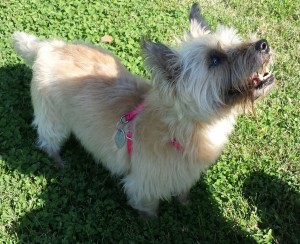 LaLa loves to cuddle and spend time with her foster mom and dad.  She simply adores people! She also enjoys  meeting new people. Everyone is her newly-found friend. She rides well in the car, whether in her crate or in your lap. Lala is house-trained, and barks to let you know when she needs to take a walk. She even cooperates well while getting a bath!
See LaLa's video: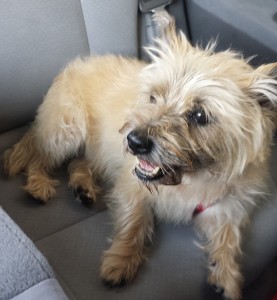 LaLa is working in her doggy manners when interacting with other dogs. Although she loves to meet new dogs, and generally  plays well with other dogs, at this time it is recommended that she be an only dog.
See LaLa's second video: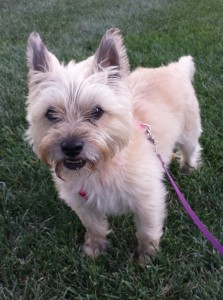 LaLa has learned to go to her crate voluntarily and take a little comfy nap when she is inclined to do that!  She knows how to "sit," "jump," and "come" when she hears her name. Please consider giving Lala her new forever home. You will be adding a loving  fun companion who will improve your life!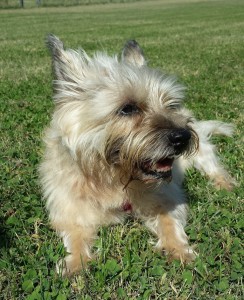 We are joining Tuesday's Tails Blog Hop hosted by  Dogs N Pawz. Feel free to post any companion animal who needs a home. We thank Dogs N Paws for hosting!