Please adopt ShaSha, a Cairn with Charm.
This little 11 year old will grab your heart. She is a happy wee lass. ShaSha sits up and waves her front paws when her foster mom gets home.  Col. Potter Cairn Rescue Network was there for her in her time of need, when her person passed away,  and was able to place her in her Whitesboro, New York foster home.
ShaSha is known for her ability to sit  with people and keep them company in a way that makes them feel very special.  Her foster mom says that ShaSha has "such a perfect, sweet personality, is very laid back  and easy-going". ShaSha  would do well in a home where the person or family wants a "darling little senior who is not going to be demanding or jump around a lot. This is not to say that she doesn't have a zest for life. She does. Watch her on her video! She also loves to walk on a leash, and is able to use the doggie door and ramp to go in and out of the house.
https://www.youtube.com/watch?v=NQdMs_QiVO4&list=UUBA5h5pyT_eAbIwiHeK5D0w
You can see her profile on Col. Potter's Available Cairns page. Why not fill out an adoption application while there!  As her foster mom mentions, she came into her foster home a little plump, but has lost a bit of weight. Her arthritis symptoms have decreased as she has lost the weight and gotten more exercise. She also gets some metacam for it.  Additionally, she gets  eye drops for dry eye.  ShaSha loves to choose a dog bed and from that base, watch her foster mom as she goes about her day.
This is where I remind everyone that these little terriers live long lives! They are tough little dogs, and I've known of some who have lived to the age of twenty! What are you waiting for? Please fill out your adoption application, and remember that even if you are not near Whitesboro, New York (right in the center of New York State), Col. Potter will help you problem-solve about how to get her to your town!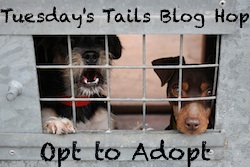 We are participating in Tuesday's Tails Blog HOP, hosted by Dogs N Pawz. We thank them! Feel free to post any companion animal who needs a home!