We are pleased for you to meet the Izzy Family (twitter handle @FurBabiesRUs) as they are preparing for Christmas. We are also joining the Thoughtless Thursday Blog Hop,  hosted by Ruckus the Eskie and Love is being owned by a husky and Barking From the Bayou. We thank them for hosting.
This is Livvie. I have been having some thoughts about what the humans are calling the "Holiday Season."  Mostly they are speaking of Christmas.  My twitter friend Bertie and his circle of friends call it Crimbo! Mom said that we don't celebrate Christmas, even if we call it Crimbo.  I saw the other dogs' and animals' blogs and twitter sites, and they all have Christmas things. I began to whine, "I don't understand." Mom said, "No need to cry! Let's invite our friends to be guests on the blog!"
I love this idea, so now I'm calling my friend:  "Izzy! Izzy!" ……..
and I hear a faint bark coming from the direction of Texas…… Do you hear it?  I hear a little meowing too….
"Izzy Family, is that you?"
(Oh, I see I.N.K. from the Izzy Family)
"I.N.K.,this is Livvie.  What have you discovered? Where are your sisters and brother?"
"Hi Izzy! What are you doing in that box? Why is I.N.K. outside the box, possibly taunting you? Is that a Crimbo Christmas tree your parents just put up? Are you guys decorating?"
"I'm starting to get the idea Livvie. This is Izzy. This is the tree, which is not green and it must have been living in here. Now the tree is out there. Do you see it Livvie?"
"I.N.K. is trying to wake Nelly and Simon up to tell them about our decorating party! She's also telling the tree who's boss! So Livvie, this is what we do to decorate for Christmas. There's some nice music on and mom is telling us what Christmas means to her."
"When Mom asked Simon directly what Christmas means to him, he said: 'Momeee, it's when ewwe make us siwwy cowars on whiff sparklees or siwwy tee shirts whiff Santa on dem. But it also means pressies. Towys I can destwoy and rip to shweds! Woohoo!' "
"Nelly responded similarly, but added, 'I reely loves all the crumbies they drops on the flooor!' "
"I'm looking up at momma and taking in her love and the happiness in her story. She observed that the meaning of Christmas has changed at different periods in her life.  She told us that when she was a child, she would wake up in the middle of the night so excited about the surprise she would get from Santa. She would lie in her bed and wait for the space heater to light up her room with its orange glow. When it would come on, she would grab her stocking off her bedroom door and sit in front of the heater and look to see what was in it. In the morning she would anxiously wait for breakfast to be over, biding her time by peeking under the living room door to see if she was able to see her gifts. It also meant visiting grandparents and cousins and aunts and uncles. Great feasts, fun, and of course, more presents.
Mom explained to us that as she got older Christmas became a time for giving rather than receiving. It became a time of visits to different people. She loved going to her step grandfather's house for Christmas. She didn't care about the gifts, but began to love the process of gift distribution that her step grandfather used. He would carefully wrap each present in different wrapping paper, and they were all from Santa, no matter how young or old the person was.  With a Santa hat on his head, he took great pleasure in handing out the gifts. Mom explained that many of our decorations were gifts from him!  Oh! Simon just commented that he would like to chew on that Santa hat.
Mom explained further that now the meaning of Christmas has changed again. She loves playing Santa for her step-children (our human sibs),  watching their excitement, and remembering when she was young. The friends and family she has now, old and new, add to the meaning. She tells us that watching us, her dear fur babies and the enjoyment that we get from all of the excitement makes it so special for her.
So, she sums it up by telling us that Christmas is a time of reflection. A time to recall fond memories and the opportunity to string moments together to create new ones. A time to remember those people who contributed to your memories and the privilege to help create memories for others.
She knows how to get to the heart of things. Do we have a great momma or what!? By the way, have I told you how much we love our mom and dad and our human siblings?
Look Livvie, I found giant socks! Should I wear them? I'll try!  (Also look behind me and you will see a beautiful framed picture of our sister Glacey who went OTRB in 2013. Christmas 2012 was her last Christmas with us, so it was extra special and our human siblings were here that year too, so it was the last time we were all together. When I remember, I think it was my best Christmas ever!)
"I found out that the stockings get hung up and teeny pressies are in them for us. Momma says that I just don't remember! I am a doggie after all!
So Livvie, what do you think of it all? Maybe you will tell us about Chanukkah. We will tell you more about Christmas as it gets closer!"
I am I.N.K.! I shall pretend that I am an outside cat, climbing in trees! It is indeed a very special time of year , but the most fun activity is knocking ornaments off the tree! Christmas spirit!
"Hope you enjoyed our Christmas decorating day Livvie!"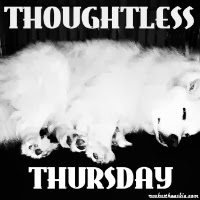 Thank you Ruckus the Eskie, Love is being owned by a husky, and Barking From the Bayou!