This and That Thursday: Pug Land
Twinkle here. Some of you may know that I was rescued by a Cairn Rescue Group called Col.Potter Cairn Rescue Network. Some of you may also know that I am not a Cairn. The group had a dna test done on me, and it said that I am a combination of Pug and Westie. There are so many things I could say about that. For now I will say this: Mom and I thought that it might be fun to go to a NYC Pug MeetUp Group. I could identify with Pugs, and mom could feel like a Pug Mother.
Off we went on our journey. When we arrived, we were both dumbstruck. Once mom climbed over the gate and placed me on the ground, there were about forty-five Pugs running every which way. We both just stood there with our mouths open.  Every pug seemed to have a destination, and a few friends. All was peaceful. Many were in froggy position. The humans were all relating nicely as well. Soon I became one of them, but mom just couldn't take it all in. I was running around, and she was tagging along behind me silently. When introducing me, she felt she had to mention that I was half Pug. She didn't want anyone to think we had crashed the party! All the pictures she took were blurred, upside down, or just wacky!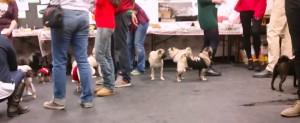 She couldn't get across how amazing these Pugs are, and how many of them were all together, so peacefully. They were also extremely funny.
We even got to meet a twitter friend we had only met on twitter the night before!
Mom wondered why she felt that she had to keep explaining to everyone that I was half Pug. Suddenly she felt that I looked like a Schnauzer.
In the end, she felt that we should all accept ourselves, whatever our background.  Don't you agree?
We are joining the Thoughtless Thursday Blog Hop, hosted by Ruckus the Eskie, Love is being owned by a Husky, and M.K. Clinton. Thanks to them for hosting!
"Don't think, just link"