Adopt Monaco, an irresistible Cairn
Col. Potter Cairn Rescue is my favorite rescue group. In November they did something you will be impressed with. They rescued thirty  dogs. They dubbed their largest-ever group to be rescued "The World Tour 30". Our boy Monaco is a former breeder dog, and is seven years old. He is being fostered in Duluth, Minnesota.  He has no travel restrictions, so if you would like to adopt him, Col. Potter will help help you brainstorm about how to transport him to your town.
And want him you will! This is what his foster mom says: "Monaco is a very quiet, loving dog. He loves to lie in your lap all day long. He loves people and wags his tail in excitement with everyone he meets, including children. He does not bark." She goes on to say that he is an extremely mellow, go-with-the-flow guy.  The next picture personifies him. He loves to be loving someone.
Monaco sleeps for a good portion of the day. He doesn't play much with the other dogs, and prefers to be with people. He follows his foster mom all over the house.  Since Minnesota has been so cold, he hasn't been a big enthusiast of going outside.  That is certain to change when spring arrives. (I'm told that it surely will). On some of the warmer days, Monaco has been running around in the yard.  He's a great leash-walker, staying right by your side and not pulling.
Monaco sleeps quietly in his kennel at night, and gets extremely excited when he is let out in the morning. Here is his little video of this exciting time for him.
His foster mom says that he is a wonderful dog and that everyone who meets him, loves him.  His favorite thing is to sit on your lap and be petted. He has learned from the other resident Cairns to sit on the back of the sofa and nap in the sun.  His whole body dances with joy when you greet him in the morning. His only future learning curve is that although house-trained, he does do some marking, and is currently wearing a belly band. My guess is that in a household with fewer dogs, and with some further training, this could be eliminated. He also has dry eye and will need daily medication, but this is easy to do and he tolerates it well.
Foster mom urges you to hurry and get your adoption application in for this wonderful, quiet, loving dog! You can do this at the Available Cairns Page, and also read his profile. There is also a GoFundMe page with more details about the group. Your quality of life is about to get better!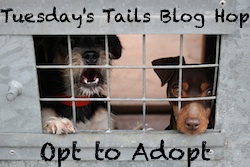 We are joining Tuesday's tails Blog Hop hosted by Dogs N Pawz. We thank them from the bottom of our hearts. Feel free to post any companion animal who needs a home. Thanks!