Adopt Tracey, an exceptionally charming Cairn.
This week's available Col. Potter Cairn is Tracey, a beautiful senior girl! Look at those eyes!  She is 13 years old and being fostered in Arlington, Texas. Her foster mom says: "Tracey is a super sweet and loving girl." She loves to sleep a lot, but is super aware of where foster mom is, and will wake up from a sound sleep to be picked up to sit next to her. Tracey is very non-demanding  and a super-easy foster.
Tracey is house-trained and uses the dog door when she wants. She sleeps all night  and is quiet as can be and is crate-trained. She loves everyone and is very patient with the exuberant active  pup girls at her foster home. All little Tracey wants is a warm bed and someone to love her.
You can see her profile here at the Available Cairns Page, and also fill out an adoption application!!! Here is one of her videos:
If you would love to have a wonderful laid-back, sweet girl who loves to cuddle, please act quickly. If there's room, she'll roll over for a tummy rub. These little  dogs live long lives!
More videos:
The only question I have for you, is what are you waiting for?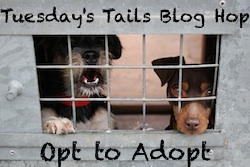 We are participating in Tuesday's Tails Blog Hop hosted byDogs N Pawz. We thank them for hosting. Feel free to post any companion animal who needs a home.