Please consider adopting Denmark, a very important Cairn!
You may recall, a couple of weeks ago, (2/26/2015),  that there was a charming Cairn boy looking for a forever home on this blog. His name is Monaco, and he was part of the largest-ever group to be rescued by Col. Potter Cairn Rescue Network.  You may remember that they called it "The World Tour 30." Yes, 30 dogs were rescued that day!
Denmark, or Denny, as he is called in his foster home, is another one of these pups.  And what a pup he is! He is approximately eight years old, and is being fostered in Houston, Texas. If you would like to adopt him, Col. Potter will help you problem-solve about how to get him to your town. Foster mom adds that since he is so calm, free of prey drive, and enthusiastic about chilling out indoors, he would be great  for someone living in an apartment or condo. She adds that since he has always been around dogs, it might be good for him to be in a household with another dog.
You can see Denny's profile on the Col. Potter available Cairns page. It would be great to fill out an adoption application while there!  There is also a GoFund Me page with more details about the "World Tour 30".
Denny's foster mom speaks very highly of him.  She was impressed that when he first came to the foster home, he was quite relaxed and laid back. Having come from a breeding facility, this was striking.  He was learning house-breaking and how to enjoy his newly-found freedom. He made progress quickly. In just a few weeks, he was introduced to many things he'd never been exposed to  because of the limited freedom of a breeding dog's life.  He learned how to walk on a leash, which had been daunting when he first arrived.  Initially he could only walk briefly in the back yard. Soon, he learned to venture further, and , in no time, he got braver and more comfortable.  He now walks beautifully on leash and loves going on walks. In fact he was able to have his world expanded a little bit more recently by going on a visit to PetSmart.  He was initially a bit frightened by the commotion in the parking lot, but when he got inside, his Cairn personality came out and he enjoyed going up and down the aisles sniffing all the bags of dog food. On other fronts, he recently had a short session on the grooming table, and handled it like a pro.
Denny began to learn house-training, and was doing well.  He is still doing very well, but is wearing a belly band in the house. He stands by the door waiting for you to remove it or put it back on. Foster mom says that this is really no trouble. I imagine that in a household with fewer dogs, and some more patient training, he will progress further. (He is house-trained, but still marks sometimes indoors).
His foster mom feels that his true temperament is that laid back, calm, quiet persona! She says that he is an extremely sweet dog who enjoys any lap time he can get. He is very good with the resident Cairns, but doesn't interact with them much, and as mentioned above, seems to have no prey drive. He might be fine with cats! (He has not officially been "cat scanned").
Denny continues to wait patiently for his forever home.  If you are looking for a companion who is sweet, easy-going, and easy to take care of, then fill out an application for Denmark.  He would be so pleased!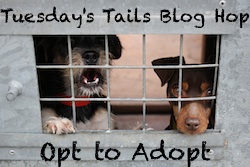 We are participating in the Tuesday's Tails Blog Hop hosted by Dogs N Pawz.  We thank them for hosting. Please feel free to post any companion animal who needs a home. Thanks!