The cutest Cairn face in the World! Please adopt little Peru!
Yes, it has happened once again! Another little Cairn boy who is, dare I say, even cuter, has appeared! I had to sit down when I saw little Peru's face. So will you. Col. Potter Cairn Rescue is giving him the go-ahead for adoption, along with his friends who you have seen in the past few weeks , Denmark and Monaco. They are all from the same group rescued in November, and designated as The World Tour 30. It was the largest rescue effort ever done by Col. Potter. (Thirty dogs).
His foster mom and dad say that he is a gentle little boy who likes to have his tummy rubbed and lie beside his people on the couch. He doesn't ask for much from life except some loving, and some treats.  (At this point I feel a tear roll down my face).  Soooo… Peru is eight years old and being fostered in Haughton, Louisiana.  His foster mom and dad say that they have been calling him "Roux Roux" as a nickname. (Its a sauce thickener in Louisiana).  One of his favorite hobbies is stuffies. He loves to tear them apart in a matter of minutes, and he enjoys it so so much! He will also sneak and grab toys, socks, and blankets, and run off with them as his foster parents call him to bring them back. His face when he makes off with the "toys", is priceless.
Peru playing in the yard:
Here's a little more about Peru's story. His foster mom traveled a long way to pick him up, and they had a great adventure. She brags that Peru is a super traveler. When he arrived home with his foster mom, Peru learned right away about couches, laps and toys. Since he had spent his life in a breeding facility, these were all new to him. He even got to meet a new baby, which was not his favorite thing in the world. Initially Peru followed his foster mom all over the place and was a little scared of everyone else.  He's braver now, but still a tiny bit scared.
Peru was settling in nicely when it became apparent that he had a medical issue. After being diagnosed with a collapsing trachea, and put on medication, less than a month later, his vet said that he's doing great, and ready to be adopted. From what I hear, lots of small dogs have this condition, and it is possible to have a mild version of it. In the meantime, Peru was busy learning to run and play outside with the other doggie boys in the house.  How about checking out his
profile
and filling out an adoption application?!
So the collapsing trachea condition involves coughing when overly active. Medicine is given at that time. Foster mom reports that he isn't all that active and doesn't frequently get very excited, so they have only had to use the medicine once. She hopes it isn't an obstacle for him getting adopted because he's such a good boy that she would love for him to get a wonderful family or person.  There is a GoFundMe page for him that will help with the costs of the diagnostic tests that the group incurred.
His Close-Up for his next starring role in a movie:
This boy would be a great companion, and improve anyone's quality of life. If you are concerned about his medical issue, feel free to ask the Col. Potter people for more info. Col. Potter will problem-solve with you about how to get him to your town if you live far from Louisiana, but he should not fly cargo. He could be transported by car or fly in cabin.
He's waiting!!!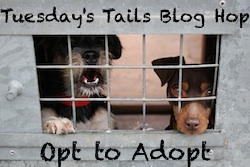 We are participating in Tuesday's Tails Blog Hop, hosted by Dogs N Pawz. We thank them for hosting, and invite you to post any companion animal needing a home.