Adopt "Germany" the  Enchanting Cairn
You may remember reading about Col. Potter Cairn Rescue's remarkable feat. In November 0f 2014, they rescued thirty dogs from a breeding facility. It was their largest-ever group to be rescued.  They called it the "The World Tour 30", and each dog was named after a country. Peru was seen loping about these pages as was Denmark and Monaco. Germany is now here, looking for his forever home. You can read more about them on their GoFundMe page.
He is a former breeder dog, and is eight years old. Before anything else, you must see the personality this boy has. His video shows him and his pal (adopted recently) being let into an x-pen to pee and play after being transported in crates for several hours. The two of them are so happy and enthusiastic. He's the smaller one with the red harness.
https://youtu.be/iCcCl1IvjLo –
I like what he seems to have inspired in the humans who are laughing and joking in the background. He is being fostered in Pennsylvania, but if you would like to adopt him, Col. Potter will help you brainstorm about how to bring him to your town. This little boy should not fly because he has an heart issue, which I'm told will not prevent him from living many more years. His medications are not expensive, and he takes them easily. His only symptom is a soft sporadic cough when he is settling down for the night. He still plays ball, loves his walks, and interacts with the rest of the dog-boys in his foster home. He is a happy dog who loves people and is ready for a forever home that understands that his heart condition does not define his ability to give all the love he has to share.
You can read more about him in his Profile on Col. Potter's Adoptable Dogs Page. Please consider filling out an adoption application while you're there. You can also see his second video below:
He is very loved by all who meet him. Especially cute is his lamb's wool-like coat. He's kind of a fuzzy boy, and his foster mom has been working on it! She stripped his body-fur initially and it has been coming back in as a regular coarse Cairn coat. His under-coat is red, and the outer is black and grey. He's ok with his body fur being stripped, but not crazy about his head hair and tail being worked on! I can't blame him!
One more thing you must know about Germany is that his favorite pastime now is to play ball! he doesn't fetch, but carries the balls around and then bounces them and chews on them. He's fond of running around with the other dogs when they are fetching.  He is also potty-trained and loves a good cuddle on the couch. He has tremendous spirit, love and playfulness.
Please don't miss out on this most charming of Cairns, little Germany!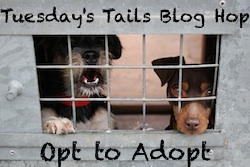 We are participating in Tuesday's Tails Blog Hop, hosted by Dogs N Pawz. We thank them for hosting, and invite you to post any companion animal who needs a forever home!