The Campaign to Mend Mikey the Shih Tzu's Hips
Hi everyone! This is Livvie reporting from Brooklyn, New York. We have been neglecting our duties here at Matilda's Journey because we have been extremely busy chasing our collective tails! You know how that can be. One thing I have been doing is tweeting with my twitter friends (@gigglingr). This post is about one of my friends from twitter, Mikey McGee the Shih Tzu, who is also known as The Tzu Who Never Grew. He is a much loved member of the Anipal Community on twitter, and has over 9,000 followers.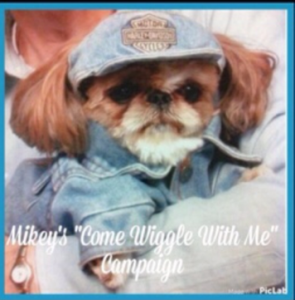 You might ask, Why is he so popular, Livvie? Ok. Let me bark about him now. First, he's so tiny and cute, and his bark sounds like a duck!!! He also has a Frog Collection. No, not real frogs (although don't tell him). Squeaky, stuffy frogs. Mikey is so attached to his frogs that his Shih Tzu sister, Abby, who he adores, is not allowed to go near them. If she does dare to pick one up, he marches right over, and glares at her. Abby drops the frog pronto!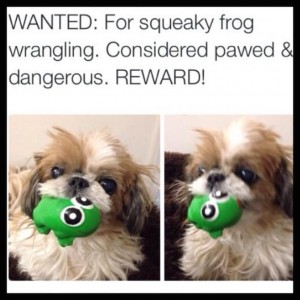 Jibbering (quacking) Video:
What Mikey is really known for though (besides his quick wit and mischievousness on twitter), is his Therapy Dog work. For many years, Mikey has been accompanying his mom, Wendy, to the Nursing Home where she works as a counselor.  He has his own set of residents who he visits and helps.  His mom tells me that he has that special skill of tuning in and knowing exactly what each person wants. He can give people their space, or be the cuddle bug he knows how to be! He can even curl up in someone's lap in a wheelchair, and take a nap with them. Sometimes he travels to Bingo with a person who is using a wheelchair. He has one good friend at the nursing home who lets him sit in her wheelchair pouch to travel around with her.
https://youtu.be/fWoEO1UOHwQ  Snoring Video
I discovered Mikey on twitter one day, chatting away. He has a very distinctive voice, apart from his duck-like bark. He's so funny, and is often at the center of whatever mischief is under foot. He can get you laughing pretty hard He's also very supportive of all his friends.  I forgot to say earlier that he can sneeze on command!!
Foofing Video:
The real mischief is that his hips are in need of repair, and he needs our help. He has ligament damage in both hips because of his severe bow-leggedness, and recently he had a fall and dislocated one of his hips. The doctor says that he is a great candidate for surgery, and his mom is in the process of raising the funds to do this for this delightful pup.
Here is the link to Mikey's "Come Wiggle With Me" Campaign on Youcaring.   Every little bit counts. Lets pitch in for this tiny soul  who makes so many people and dogs happy!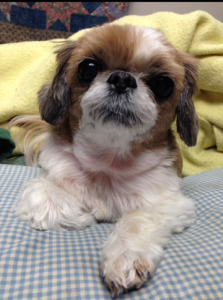 Thanks!