Sepia Saturday: Strange Happenings In New York…
It all began when Twinkle thought she spotted something.
As the older sister (Livvie the Rat Terrier), I had tried to explain Sepia Saturday to her, but she's quite young. I wasn't sure she would comprehend. Some might not believe the fantastical story I tell. The portal we silently and sepially pass through in the blink of an eye.
And then she saw it. The little wooden carved guy from Copper Canyon started to move about.
Twinkle was ready for anything, and it began.
We went hurtling into the Sepia Universe.
The rest is a mystery.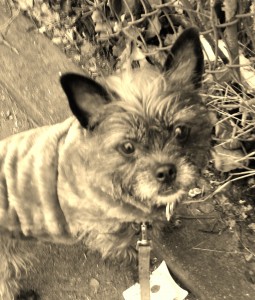 We are joining Sepia Saturday Blog Hop, hosted by Ruckus the Eskie and Earl's World. Thanks you guys, for hosting!