We are so happy to be nominated for the Shine On Award from Marian Allen and Katya Graymalkin. We thank them again, and are especially pleased to have been given the nod by Katya, who is not a fan of all dogs! We, Kessie and Livvie  have been given the  Two Paws Up by her. By the way, she is our favorite cat. You must visit their blog:  www.marianallen.com . Marian is an amazing writer , and friendly and warm to all her visitors.  You can purchase her wonderful books there, and she gives creative prompts for writing ideas on every post. There are so many interesting activities on her blog that you just have to go and see for yourselves. Plus she writes about food until you could fall over from all the salivating.
We are very excited because it is the first time mom has been able to upload a patch to the blog. (We did the beginning of this post several weeks ago).We thank Marian Allen for explaining it and Matt Cohen for his good online tutorials about Macs. Sooo…
THE RULES OF THE AWARD:
1.) Visit and thank the blogger who nominated you.
2.) Acknowledge that blogger on your blog, and link back
3.) Share seven random things about yourself
4.) Nominate up to 15 bloggers for the Shine On Award, provide a link to their blogs in your post, and notify them on their blogs.
Whew.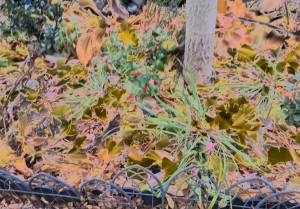 Ok, the first two are taken care of. On to Share Seven Random Things About Yourself:
Since the blog was originally Matilda the Greyhound's blog,  and written by Terry the human sometimes, but also contributed to by Matilda's siblings, Kessie and  Livvie the Rat Terriers, the seven random things will be about any of the four of us. You will have to use your imagination and ciphering skills to determine which of us each random fact refers to! To confuse you, I will use the present tense even for Matilda.
1.) I'm fond of dancing the Irish Jig in order to score many many treats while mom is watching tv at night or blogging.
2.) I love to smile and then quickly bite your nose (for fun).
3.) I love to make a tiny howl when I hear fire engine sirens.
4.) One of my all-time favorite tv shows is Buffy the Vampire Slayer.
5.) My profession is therapist.
6.) My favorite food is duck breast.
7.) Mom adopted me from a rescue group.
There we go. Be sure to let me know if you have figured out which fact belongs to which being!!
Now, to nominate the bloggers. You can nominate up to 15 bloggers, and notify them on their blog. These are all wonderful blogs. Here we go:
2.) Tales And Tails
3.) See Beautiful
4.) Rachel Mankowitz  The Cricket Pages
5.) Following Roy
6.) My GBGV Life

7.) Dogs N Pawz
9.) Ruckus the Eskie
10.) Pooch Smooches

11.) Sugar The Golden Retriever

12.) Dakota's Den
13.) The K-9 Harper Lee

14.) Jan's Funny Farm
15.) Donna and the Dogs