Amazing Macie Finds Forever Home
Bring out your hankies dog-lovers! Here's a feel-good story to combat all that bad news out there.
On March 5, 2015, Matilda's Journey blogged about a little senior Cairn girl who needed a home.    Her name was Tracey, and she had been rescued by Col. Potter Cairn Rescue Network. Although she was sweet, healthy and no trouble at all, she had been in foster care with Col. Potter for some time after having been rescued from a breeding facility.
Erin, who is a Col. Potter Volunteer extraordinaire,  asked Matilda's Journey to blog about Tracey. Everyone  fell in love with her. Erin kept remarking about her.   She kept reciting "Oh she's  so beautiful, sweet  and  well-behaved" like a mantra.
Erin returned to the blog post. And returned to the blog post.
"How would it be to have four dogs?",  Erin asked….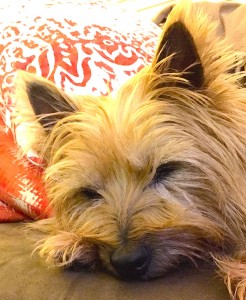 We "discussed amongst ourselves", as they say. Erin consulted with family members, including Caruso, Cindel, Wicket, and Chris. Everyone was on board. How could they not be?!  Soon, so soon, Tracey, now Macie, was on a plane from Texas, heading to just outside DC.
Then it happened!  This thirteen year old pup arrived at her forever home.      And:
Erin: "it's like she's always been here!"
She gets along well with her three new siblings, Caruso, Cindel, and Wicket.  They will  dance up to her and try to get her to play! Caruso will go so far as to talk to her in his doggy vocalization way. She is energetic on walks, and doesn't bark at anyone! She loves to meet new people and dogs.  Sometimes she'll even start running around like a puppy. Look at her adorable brisk walking in her video with Cindel: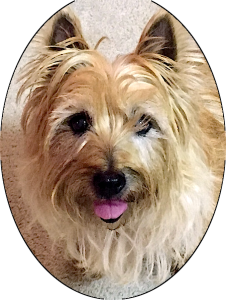 Macie is affectionate and loves to be petted. She has mastered the art of paw-tapping the human arm if it has ceased petting for a moment. She has also almost mastered the art of climbing upstairs, but not so much with that pesky down part.  Her hearing isn't 100%, but she recognizes the food bowls, and comes running for meals with the others!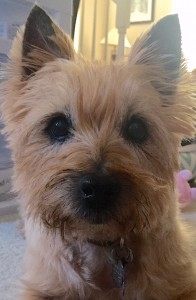 Erin said that she made an ornament of Macie's paw (to go with the ones that she made of Cindel, Caruso and Wicket), and she truly has the most perfect paw print.
Macie has tried out all the different dog beds in the house.
Thank you Erin and Chris! says Macie. Her dream of dancing in her forever home is here.