Please consider adopting Melba, a loving Cairn. She is in a foster home in Frisco, Texas, but Col. Potter Cairn Rescue will help you problem-solve getting her to your town. She is a ten year old sweetheart, whose family was moving to a place that wouldn't allow dogs.  I know. Take a moment.  And her strongest quality is that "she is very caring and tries to comfort you if you're feeling down." (Quoting her foster mom).
Melba's foster mom says that she is very camera shy. Any photos have been taken by the stealth method! This is her only "dislike".  She is described as "the absolute sweetest girl on the planet."  Melba is fifteen pounds,  wheaten-color, and has the adorable face of a girl who loves sitting on the couch with her foster mom and dad.
Foster mom  says that Melba is "a chill little love-bug who just wants her very own forever home." She continues: "She is the easiest dog ever, and just enjoys being around her people." Now, if you're thinking, yes but she's ten years old, I remind you that small terriers live long lives! We actually know of a terrier mix who is over twenty years old!  No, that isn't common, but it is a possibility!
Melba would probably make a great Therapy Dog! I recommend that you visit her Profile and fill out an adoption application. A dog this mellow but lively, connected, but independent, joyful and caring is quite special. She is just waiting for a belly rub from you.  Again, to quote her foster mom, " Melba is adorable, easy, loving, snuggly, low-energy but spunky, and sweet. She would make the perfect companion for just about anyone!"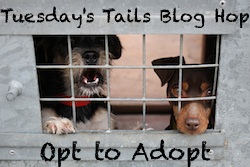 We are joining Tuesday's Tales, a Blog Hop hosted by Dogs N Pawz that posts companion animals in need of homes. Please feel free to post any companion animal you know of  or look for you next best friend there! Thanks you to Dogs N Pawz.