Hi folks. Livvie the Rat Terrier here. I wanted to join Thursday Barks and Bytes.  My post has several doggies in it, for the Barks, and then the hedgehogs are doing a lot of Biting, and it is about twitter, so that is the Bytes! (I,  Livvie have my own twitter account:  @gigglingr). Thanks to  2 Brown Dawgs and Heart Like A Dog for hosting the blog hop!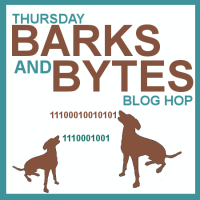 I want to tell you about my twitter friends, Bumbley the dog (@Im_A_Bumbler), Wellington and Pickle the hedgehogs (@pricklyduo), Yoshi, their dog brother (@neale_yoshi), and Doris the Lurcher (@DoristheLurcher), their dog cousin. One day mommy and I met one of my best twitter friends, Bumbley.  He is an adorable guy who is so friendly and welcoming. He took me right into his twitter-verse, and introduced me to Wellington and Pickle, who he describes as "the cutest likkle guys ever!"
He also told me that I'm "the cutest likkle fing eber", and he sent me a Valentine card. He has a lot of twitter friends, so he sent a lot of cards!  He's very supportive and affectionate and playful. He tells everyone that he is "da pricklies bodyguard, making sure my likkle pals are ok! Xx." He is also Wellington the hedgehog's babies' uncle, and I, Livvie am their aunt. Keep reading to hear about the baby hedgehogs.
Anyway, Wellington and Pickle are the funniest and cutest hedgehogs, and one night Pickle says to me, "Do you spit on u self"?  What a funny thing to ask! Mom and I laughed quite hard. I offered to try it. Then we got some pictures of this "spitting  on u self" which is  actually called "anointing".  Here are some!
Wellington narrates: "the start of anointing…look at me teeth!" By the way, Wellington and Pickle and Yoshi are British, and Bumbley is Canadian. Doris is Irish, but lives in England. I am American.
The second picture is of Pickle.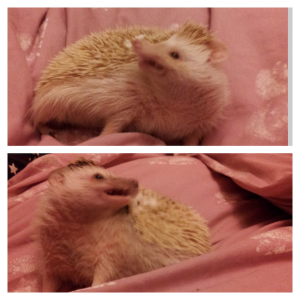 Mom and I are fascinated with this. Scientists think it may have something to do with the hedgies needing to camouflage their scent. If they bite something and spit it onto their bodies (with a little froth), their own scent might be weakened, and predators thrown off!
Hedgies get baths, and Pickle likes to soak with rubber duckies.
Another time, Wellington said,
"Hi sweet pal, we just gonna have some chicken! Pickle put her blanket in her water bowl last night whoopsXXX."
We didn't get a picture of that.  We also learned that Wellington had just had babies with his girlfriend who lives elsewhere.
We had met Doris the Lurcher (@DLurcher), and we introduced them all. Doris is now a cousin.  She was happy to be asked to be part of this "cool family." I asked Doris to describe herself. Besides being beautiful, and looking exactly like a greyhound, she is extremely funny, witty and kind.  She began by saying that she's a "pricklie-loving cousin from the south of England with friends big and small." She added that she is "four years old, a rescue from Ireland, and likes zooming, cheese and snoozing". After further thought, she added that she also favors "fireplaces, Yorkshire puddings, fine knitwear, but dislikes animal cruelty and vegetables!" She admitted to having fun describing herself!  We love Doris!
Here are more pics of Wellington, Pickle and a baby hedgie. Feel free to join us on twitter. We just have fun and are silly.