Today's Mischief is about yesterday's trials. Mom looked the word mischief up, and found some of its more profound meanings. One definition: "a cause or source of harm, evil, or annoyance," (dictionary on mom's phone)  Mischief always sounded cute to mom. What adorable thing has your pup done today? Yesterday, unsettling mischief was in the weather, for one. I'll let her tell her story.
-Livvie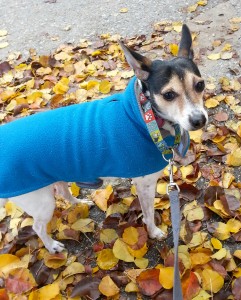 Yesterday, I set about doing something good, and I narrowly escaped harm. It began in the morning when I hurriedly rented a car to take a trip to a remote  area in New Jersey. I rode for an hour and a half outside of New York, into a rural part of New Jersey that I cannot even name. Why? To meet some greyhounds.  This is the rescue group that is closest to my house.  Was I ready? Would I return with a hound? Did I really need to have three dogs?
More importantly, would it snow?
I found my destination easily, noting that the flurries had already started as I wound my way through the countryside. There was frost on the fields. As I arrived, I thanked the greyhound goddess that I had arrived safely. It was bitterly cold. As I stepped into the large area where the greyhounds and people were, there was a blast of warmth that nearly singed me. There was milling about, and, for me, a certain disorientation. There may have been ten dogs and  fifteen people. I wondered how the hounds felt, some of them having only arrived from the track in Florida the day before. They were remarkably calm. Several people were speaking soothing words to one big white  hound who was so excited to be around so many people. His happiness was enormous. Soon I was petting a little black girl, and being given information about her. She was perfect for me and my household.  Small- dog- friendly, house-broken, and had been in a foster home before she came east.
I walked her outside, and not only was it her first snow, but there was now a ton of the stuff. It was coming down really hard, and although beautiful, was a bit ominous. I had a drive ahead of me. I took her back inside, and realized that I couldn't conjure up any excitement about  adopting her. There was also a commitment I had the next day that would not allow me to be home for many hours. How would I bring her home and crate her without help, which I eagerly began seeking via phone.  I was pretty sure that the gigantic crate would not fit in my car, even folded up. As I realized this, I began to feel extremely torn.
When the adoption group  Head came over to me, I began to explain.  I was met with extreme hostility. I felt stunned, and turned to leave, my eyes stinging. When I found my car, it was piled high with snow and ice. I had no scraper , since it was a rental, so I set about cleaning it with my arms. The snow was blinding, almost blizzard-like. As I pulled away and reached the main road, it became clear to me that I might not make it back home. The visibility was extremely limited, and everyone was driving about 25 mph.  We were all wrapped in a fog of white. I was so glad that I didn't have that wonderful dog with me. If I crashed, it would be alone, and the pup would not be harmed. Sadly,  the adoption woman's harsh words ran over and over in my head.
It was a long, mischievous trip. Three hours later I arrived safely home, and was met with enthusiasm by Livvie and Kessie, who were solicitous for hours, like little doting  parents. It was a restless evening as I relived the drive and the sad thoughts about greyhounds. I am not ready for another greyhound. I know that for sure now.  That is the mischief for me.  The storm was a terrifying display of what I was feeling inside about wanting and not wanting to adopt the beautiful dog whose first snow I got to share.
-Terry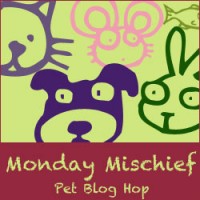 This is a Blog Hop hosted by Snoopy's Dog Blog, Alfiie's Blog, and My Brown Newfies. Click HERE to enter.