This little guy is so charming, adorable and beyond cute that you will want to leap up and go to the Col. Potter Cairn Rescue site and fill out an adoption application. See his profile HERE and access the adoption application as well.  Although Donny is being fostered in Fort Worth, Texas, he can be flown (cargo) to any location that seems like the very best home for him. Oh, and by the way he isn't even a Cairn. His DNA test says that he is Nova Scotia Duck Tolling Retriever, Pembroke Welsh Corgi and Scottish terrier mix.
Donny has completely charmed his foster family.  His foster mom says that they adore him, and that he is "sociable, engaging and completely winsome."  He is loved by all humans and dogs he encounters.  Currently he shares his foster home with three lively Cairns and an aged Rat Terrier.  Not only is this multi-terrier household not overwhelming for him, but he "loves rambunctious play and companionship, yet is respectful of the geriatric and frail sharing his life right now."  This is remarkable in light of his harsh experience with another dog at a shelter he had ended up in. See his Intake Story HERE.
His foster mom adds that Donny loves squeaky toys, but shows no signs of toy guarding. He is mannerly and has learned commands quickly. He is not needy or clinging, but loves interaction with people.  She feels that he wouldn't be happy left alone or crated for long periods of time, and he would enjoy being part of a multi-dog household.  Donny eats heartily and has a gorgeous, harsh brindle coat and a sweet expression that will melt you to a puddle. He will quickly charm his way into being everyone's favorite playmate.  In short, he "is a delightful companion."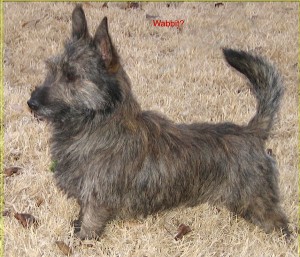 Recently his foster family visited friends who live on some land that is securely fenced and all the dogs can run free on it. Donny was a "blazing, fast brindle comet, streaking across expanses of lawn and through trees, absolute joy on his sweet face, sometimes the chaser, sometimes the chased".
"If active, intelligent, sweet-natured and companionable are on your list, and you have other active dogs to consider, take a look at Donny. You'll be delighted at what you see."
We are participating in Tuesdays Tails Blog Hop. We thank Dogs N Pawz  for hosting it. Feel free to post any companion animals that you know of who need homes. Why not also visit and find a wonderful animal to adopt.