We were happy to light the candles tonight together. Mom said that after spending the day with a lot of greyhounds, and missing Matilda, that her gift is that she has us, Kessie and Livvie. She hugged us a lot when she got home from The Greyhound Friends of New Jersey Rescue Group's Crafts Show and Pet Expo in Westfield, New Jersey. She told us that it was a strange feeling to be around so many greyhounds, and not find that special one. It might be that she is not ready yet.  Tomorrow she will post pictures of some of the greyhounds she was hanging out with.  She felt that she was doing everything right, and the dogs that she had picked out to visit with weren't a good fit.  One was too "keen" regarding little dogs, and another was way too shy for the city. They were terrific dogs, and got adopted right away. The third one never showed up. She's still a possibility.
I, Kes love the Chanukkah holiday. We got the gift of some special home made peanut butter treats called Kathy's Kanine Kreations. Livvie and I ate them eagerly. We really really like them. Mom says to tell you that no one paid us or compensated us in any way to say this. The only issue mom has with them is that  the name of the product on the label is way too small in comparison to the price and the flavor. They are also pricey, but probably because they are made at home.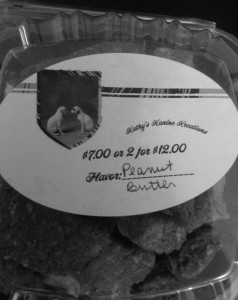 So, everyone, enjoy the Holiday Season, and kiss your pups, kitties, birds, turtles, bunnies, and other wonderful companions. We all kiss you too!
-Respectfully Submitted,
Kes the Rat Terrier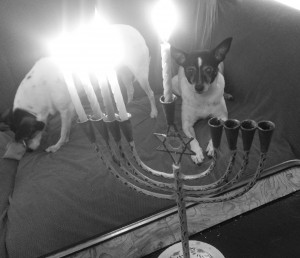 This is a Blog Hop co-hosted by Dachsund Nola,  You Did What With Your Wiener, and My Life In Blog Years. Click here  to enter.