Mom is so excited about going to the Blog Paws 2014 Conference! Yay! We doggies, Livvie and Kessie can't go though. We hope everyone looks for mom to say hello. She will be looking for you!!

Mom is hoping to find someone who can sit down with her to help her with her camera a little, and also to figure out Pinterest. She will help anyone out with anything she can. She has counseling and meditation skills.
Mom says that she feels that time and events are going as slowly as this tortoise. Actually, the tortoise isn't going as slowly as one would think. This tortoise lives at Sean Casey Animal Rescue in Brooklyn New York.  Did you know that they can live as long as 85 years?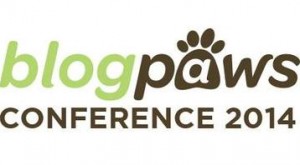 Thanks to Blog Paws for existing. Mom felt so good last year after attending. Everyone was so friendly, and there were lots of great donations to good causes like rescue, and a bulletproof vest for a police dog. The workshops were so informative, and no one was condescending if you didn't know something!