This week's Col. Potter Cairn Rescue's  pup is Jaxton.  This boy came into rescue with his brother, Mcgraw, after having been in a shelter. Jaxton is the smaller dog, and his foster mom describes him as "a doll." She says that he is a loving boy and cuddler extraordinaire.  Jaxton and his brother were together for probably half of his life. He is between nine and ten years old, and quite spunky. (Remember, these terriers are tough little dogs, and live a long time). Again, quoting foster mom,  "anyone who wants a devoted companion on the 'petite' side will fall deeply in love with this 'pocket' Cairn".
Jaxton is dark brindle with white eyebrow and mouth furnishings. He has a thick, slightly wavy, beautiful coat. Although quite bossy with other dogs, Jaxton is quite adorable and charming with people. Last week he was at the vet, and every single person there got to see him do his little sit and beg act and fell totally in love with him. People were asking for photo opportunities with him
.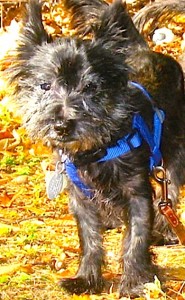 Although Jaxton  and his brother are connected in some ways. (They are aware of where the other is at all times), they have a history of fighting, and it is not recommended that they be adopted together.  In fact, Jaxton would possibly do best as an only dog. He is confident, and bossy with other dogs. He simply adores people. He loves to be in the busiest place in the house, and sometimes he will just drift off to sleep on a little mat.
See his profile HERE. Why not fill out an adoption application while there? Jaxton and his brother are being fostered in Vermont, but Col. Potter will help you problem-solve about transporting him to your town as long as you don't live in Siberia.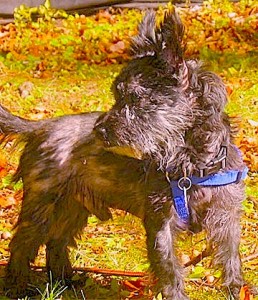 Jaxton is healthy generally, but has a black spot on one of his eyes, and has limited vision in that eye.  His age is actually not known with any certainty, and is estimated to be anywhere between nine and ten years old. He and his brother do not have incisors, which apparently makes it harder to estimate age.  He occasionally marks a tiny bit indoors, but not enough to make much of an impact. He will tolerate wearing a belly band.
He will be in your lap in a minute, and if another dog is there already, he will put his paws on your lap and lie down next to you. Foster mom thinks that he would be great for an older person who wanted a lap dog who would be a constant companion. She thinks he would be good with kids and cats, and possibly other dogs, but better as an only dog.
Please consider this little crowd-pleaser!
We are participating in Tuesday Tails Blog Hop. This is hosted by Dogs N Pawz. Feel free to post a companion animal who needs a forever home, or look there for your newest  friend. Thanks to Dogs N Pawz for hosting!