SEPIA SATURDAY  Must we?
Livvie here! Ok, I should have been ready. Even so, the spookiness is striking. I feel like I'm in a Twilight Zone episode. Don't I look like I am?
We thought our house was a comfortable haven! Yes, there was a heavy snow, but…..
Have we hurtled through that Sepia Portal again? Lets go back in time..Kessie, Kessie, are you there?
I suppose we should explain. You may find it useful to refer to our original Sepia experiences, and now, our Guide. To summarize: on Sepia Saturday, we frequently plummet into a furry, fuzzy  land filled with unusual creatures, such as the Sepia Erzatz Bunny-like Guides, Empress Tess of Tortesia and The Little Wooden Carved Guy From Copper Canyon.
We approach this day with caution, hoping to avoid  travel through the portal. One time we were privileged to see a transporter and the flying saucer component of Sepia Saturday.
All I can report today is that things are looking grim. I stared into this magic light…
…and found myself in an even stranger land than before…  After rolling onto the ground and then recovering my footing, I was face to face with…….
Our dialogue was cautious, at best, punctuated by grrrowaaaa! and errrrr! Which is when the Little Wooden Carved guy from Copper Canyon appeared….with his mother!!!
I couldn't pass up the chance to engage him in conversation, but all he seemed capable of was little squeaking, chirpy squawks.  I must say, it seems unfair for me to be trapped in such a world after all I've been through.
But then—–
suddenly Twinkle flew into the room and took a flying leap, grabbing me in her tiny mouth….Yes, she was sepia, but…
In all her bravery, she crashed through the time-space continuum back into our own home, free from sepia!  We are now experiencing full color, and are  wrestling until we sleep!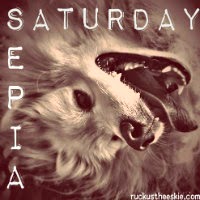 We are participating in Sepia Saturday Blog Hop hosted by Ruckus the Eskie and Earl's World! We thank them for hosting!